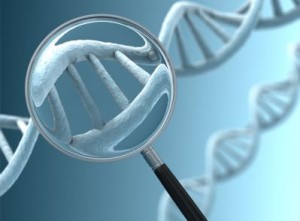 Navedeni rezultati genetskih istraživanja,u kojima se navodi podatak o 49% altajsko-anatolskih gena kod Srba u Srbiji, je prenijela Slobodna Dalmacija, i koji su originalno objavljeni u časopisu "Science" 2000 godine, pod naslovom "The Genetic Legacy of Paleolithic Homo sapiens sapiens in Extant Europeans: A Y Chromosome Perspective ", gdje su predstavljeni rezultati genetskih istraživanja koja su potpisali sljedeće naučne institucije:
1 Dipartimento di Genetica e Microbiologia, Università di Pavia, Via Ferrata 1, 27100 Pavia, Italy.
2 Department of Genetics, Stanford University School of Medicine, 300 Pasteur Drive, Stanford, CA 94305-5120, USA.
3 Dipartimento di Biologia Cellulare, Università della Calabria, 87030 Rende, Italy.
4 Stanford Genome Technology Center, 855 California Avenue, Palo Alto, CA 94304, USA.
5 International Medico-Genetic Centre, Hospital Nol, 57 Artem Str, 340000 Donetsk, Ukraine.
6 Department of Oncology, Pathology and Medical Genetics, University of Umeå, S-901 85 Umeå, Sweden.
7 Dipartimento di Zoologia e Antropologia Biologica, Università di Sassari, Via Regina Margherita, 15, 07100 Sassari, Italy.
8 Department of Genetics, Development and Molecular Biology, Aristotle University, 54006 Thessaloniki, Macedonia, Greece.
9 Institute of Molecular Genetics, Russian Academy of Sciences, Kurchatov Square, 2, Moscow 123182, Russia.
10 Clinical Hospital Center Osijek, Department of Pathology Medical School, J Huttlera 4, 31000 Osijek, Croatia.
11 Regionalne Centrum Krwiodawstwa i Krwiolecznictwa w Lublinie-Oddzial w, Zamosciu, ul Legionow 10, 22400 Zamosc, Poland.
12 Samodzielny Publiczny Szpital Wojwodzki im. Papieza Jona Pawla II w, Zamosciu, ul Legionow 10, 22400 Zamosc, Poland.
13 University Hospital Split, Department of Pediatrics, Laboratory for Clinical and Forensic Genetics, Spinèiæeva 1, 21000 Split, Croatia.
http://www.sciencemag.org/cgi/content/abstract/290/5494/1155
Dr. Sanja Glišić i dr. Dragan Alavantić iz Instituta Vinča biokemijski su potvrdili kod Srba: 49% altajsko-anatolski marker HG-2, tek 16% slavenski tip Eu19 (uglavnom u Vojvodini), 13% južni afrohamitski tip i ostale manje skupine.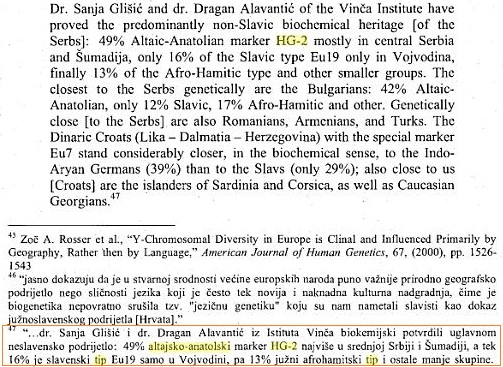 Kod Hrvata je dominantan Dinarsko-ilirski genotip 45% (oznaka EU7). Ovaj genotip vlada i u Bosni i Crnoj Gori a prema nekim još nesigurnim ispitivanjima kod Srba ga je svega 5%. E sad, kako je tek 16% današnjih Srba slavenskog genotipa, postavlja se pitanje šta su onda onih 79%? Ovdje se radi o Srbima iz Srbije, jer Srbi iz Bosne pokazuju prisutnost dinarskoilirskog genotipa.
Zaćuđujuće je da je Altajsko-Anatolski tip HG-2 u Evropi najveše zastupljen kod Srba (49%) i Bugara (42%), te kod Turaka i Turkmena u prednjoj Aziji. Također je Berberski (Afro-Hamitski) tip HG-21 u Evropi najzastupljeniji kod Porugalaca, jer su Berberi stoljećima tamo vladali, ali je pitanje od kud taj genotip kod Srba (13%) i Bugara (17%).
(Izvor: Slobodna Dalmacija)
Bošnjaci najstariji Evropljani?
Uz pomoć genetike i DNK sručnjaci su ustanovili da Bošnjaci % imaju najviše evropskih gena tj. Haplogroup I koji su stari između 25000 i 30000 godina.
http://www.sandzakvijesti.net/bosnjaci-najstariji-evropljani