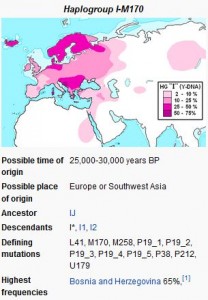 Dok u svijetu gotovo svi narodi tvrde da znaju svoje historijsko porijeklo, u zemljama bivše Jugoslavije, a pogotovo u našoj Bosni i Hercegovni, vode se rasprave ko je ko i odakle je došao, te koji narod po tom osnovu ima pravo na dominaciju.
Početkom devedesetih godina hrvatski su historičari, u želji da dokažu kako Hrvati nisu isti sa Srbima i Bošnjacima, otpočeli potragu za neslavenskim korijenima. Pojavile su se na desetine publikacija o tome kako su svi Hrvati došli s iranske visoravni. Pronađeni su grbovi, slični nazivi i mnogi drugi elementi koji su trebali potvrditi teorije velikih seoba i iranskog porijekla Hrvata.
S druge strane srpski su istoričari uvjeravali ne samo svoje, več i druge narode bivše Jugoslavije, da su svi oni Srbi, samo različite vjere, te da nema sumnje da su nam svima Rusi braća po krvi. Dokaz za to je bio slavenski jezik kojim pričaju svi stanovnici bivšihrepublika. Sve školske knjige u bivšoj Jugoslaviji su ovu teoriju zabetonirale u glavama naroda.
Najteže je bilo Bošnjacima. Njih su prisvajali i Srbi i Hrvati, čak se išlo do besmislice da su Bošnjaci turskog porijekla. Sve su činili da kod Bošnjaka stvore averziju i kompleks nize vrijednosti, što su donekle i uspjeli, a sto djelimično jos uvijek traje kod nekih pojedinaca. Na nesreću Bošnjaka, bosanski Srbi su imali svoju maticu Srbiju, a bosanski Hrvati Hrvatsku. Tražeći svoj identitet Bošnjaci su se sredinom devedesetih godina, a i prije, pokušali identificirati sa Bogumilima i time biti nešto što nije ni srpsko ni hrvatsko, već autotono bosansko, dakle vezano samo za Bošnjake. Razlog je bio taj što je Islam došao tek početkom Novog vijeka, dakle stotinama godina poslije katoličanstva i pravoslavlja.
Ubrzan razvoj genetike u posljednjih desetak godina, zasigurno će neke razoćarati svojim neoborivim dokazima o njihovom porijeklu. Seobe Slavena, iranski korijeni, bratstvo s Rusima, veza sa Turskom, sve su to teorije kojima se već uveliko klima pod nogama.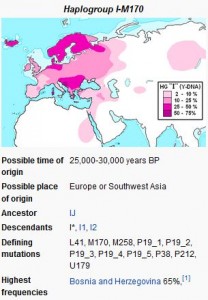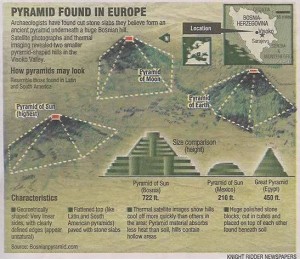 Uz pomoć genetike i DNK sručnjaci su ustanovili da Bošnjaci % imaju najviše evropskih gena tj. Haplogroup I koji su stari između 25000 i 30000 godina.